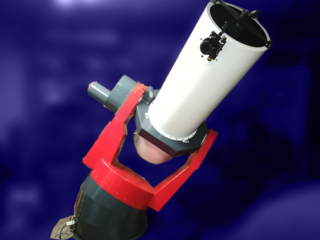 Signaal mount:
The so-called Signaal mount was the starting point for the development and construction of the first FreeGo 2 module, it took 5 years from scratch to serial production
The Signaal mount, a heavy duty mount , was made by the Dutch Signaal factory, for the Cosmos observatory in the late 80.
After years off service this mount together with the electronics and the OTA became obsolete at Cosmos.
Members of the FreeGo 2 team have saved this beautiful mechanical mount from an end at the scrap yard


The Signaal Mount will come in service again at the Campus Sternwarte at Billerbeck, Germany, hooked up with FreeGo2 lite model with high resolution encoders
this Mount and OTA will mainly be used for remote work, because of his high precision the working area will be spectroscopic research and supernova hunting.