CONFIGURE:
This is section to fine tune your FreeGo2 application.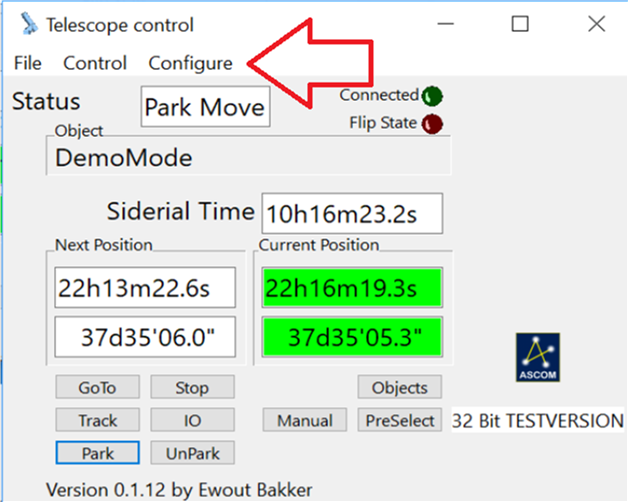 Initialize: new initialize procedure for the mount.

Star Calibrate: Calibrate your mount with the planetarium program.

Procedure: go to a well known star.. pointing this star in the middle of your oculair or camera, select StarCalibratie , then this popup shows up.In the program (Stellarium) click on the known well star and execute the goto function to send the cords to the FreeGo2 program.

Then CTRL & 1 and push Calibrate. 

 
 

Calibrate Current: Goto command to a known star, after slew confirm that the star is visible (eyepiece) or camera, if satisfied,  then press Calibrate Current.

 
 

Set Park Position: Slew the telescope to a standbye (PARK) position, then select Set Park Condition, when park command is given (button, remote) the telescope slews to this position, next session the telescope will start from here.

 
 

Parameters: Configure for FreeGo2, most of these parameters you can keep your fingers off, because it has influence on mount behavior and control.. selecting Parameters shows another pop up window.

With extra tabs, most off them are system specific.

 
 After selecting parameters.
 
 
 
 

Window Tab: configure the buttons visible (yes/no), color, location off sounds etc.

Objects Tab : Configure Object parameters

Connect Tab: Configure remote network connections.

Location Tab: Set Latitude and longitude values from observatory location

 

Init Tab: Configure FreeGo2 startup settings.

Control Tab: Config your hardware
 

Param Tab: Config additonal settings.